---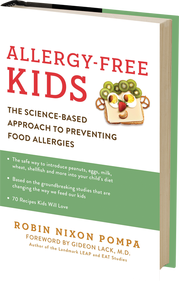 The overarching philosophy – feed kids allergens, early and often – is now being grasped by many major members of the medical community, and is particularly well regarded when it comes to peanut allergy. Research is continuing as you read. And many questions remain: What is the optimal amount, and form, of each allergen for conferring protection from an allergy? Will protecting from food allergy help protect from environmental allergies and asthma? What is the age range of the critical window for each food allergen and why do they differ? Will early exposure protect kids from all food allergies, even ones, such as kiwi, soy and citrus fruits, that haven't been adequately studied yet? Are there unintended consequences to early exposure to allergens that could have an adverse health affect? (One of the most significant worries was that early exposure would lead to premature weaning, but research has shown it does not shorten breastfeeding duration.)

In other words, we don't have all the answers yet. Perhaps I should have waited until every detail was ironed out to write this book. I did think about it. I am a sleep-deprived, full-time mother of three children under five years old. Postponing this book had serious appeal! ​

But then I thought of the hundreds of thousands of little ones who were about to pass out of the critical window during which their allergy could have been prevented. I thought of the stress and fear these families live with every day, how it hampers their lives, restricting and prohibiting simple joys like spontaneously stopping for a bite at a diner, road trips, where all food will be prepared by others, the awkwardness of first-time play dates and bringing separately packaged food to birthday parties and sleepovers. I thought of the fear of a child growing up, knowing that food – something that should rightly be a source of pleasure and contentment – has the capacity to kill them, suddenly and painfully. And of course I thought of the few, but still too many, children who will never reach adulthood, despite the years of painstaking diligence over their every bite. I thought of the pain of parents who have lost their child to anaphylactic shock. When I would think about all of this, I couldn't keep my mouth shut – or my hands off my computer. Parents deserve to know that new scientific findings are starting to change medical recommendations, from advice to avoid allergens to encouragement to embrace them.
---
Our Food Allergy Story
---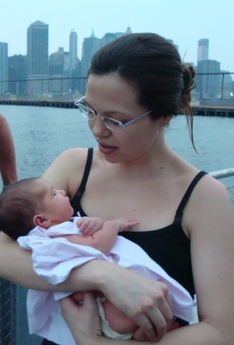 My daughter Clara, at four months old, swelled into a bawling tomato after sampling my scrambled eggs. Worried that her airways would constrict, we called emergency services. It was one of the scariest moments of my life – and from what I hear on the playground and at school pick up, it is an experience that has become shockingly common place. As many as 1 in 10 children now have a food allergy in developed countries.

Skin-prick testing found that in addition to Clara's egg allergy, she had life-threatening nut allergies. We were told she'd have to be extremely careful for the rest of her life. We put an epi pen in every purse and bag, scoured food labels, scrupulously kept all nut products out of the house and warned friends, family, baby sitters and nursery teachers, repeatedly, and especially before going to their houses, that our precious toddler was likely to die on their floor if they did not keep nuts – and nut products like Nutella, marzipan, granola, pesto, many cakes, chocolates and cookies – out of her reach. It did not make us very popular, and I worried all the stress would lead to psychological feeding/eating issues, but it was worth Clara's safety.

Our allergist, Professor Gideon Lack, also had some unusual advice on how to feed Clara: Dear reader, he said to give her a daily dose of nuts and eggs!!

---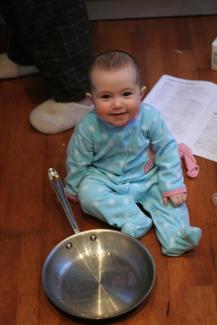 Okay, not the nuts she was allergic too (almond, cashew, macadamia, brazil, hazelnut) but the types of nut that had been deemed safe by the skin prick test (pine nut, peanut, pecan, walnut). And for the egg, we were to make a cake using only one egg and give her one 20th of it. A daily slice of cake on doctor's orders?! Clara was in heaven.

We followed his careful instructions and today, despite all predictions, at 4 years old, Clara is allergy free. When my son started breaking out in hives after eating eggs, we followed Dr. Lack's advice again. Today, with three young children, my house is allergy and epi pen free - unlike those of nearly 6 million families.

It was pure luck that we ended up in Dr. Lack's waiting room. Clara received groundbreaking treatment early enough to save our family from a lifetime of fear and stress.

The evidence for this "early exposure" cure is now mounting and it is starting to be embraced by the medical community (start by searching The New England Journal of Medicine or see the links on my STUDIES page). All parents will soon be receiving the same guidance we did: Feed your kid allergens, early, carefully and often. For at least the first five years of life.
---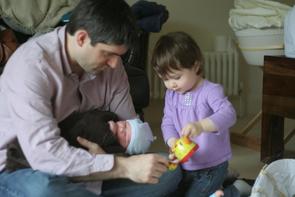 But how do you get an 18 month old to eat a Brazil nut?

Or what if your toddler, who gets an itchy mouth every time he eats eggs, understandably turns his nose up at them, no matter how strongly the doctor demands it?

This is the problem, and I battled it with yummy, scrummy allergy-butt-kicking recipes. I put the best ones in my book. Please email if you can't wait for the book to come out and need ideas now!
---